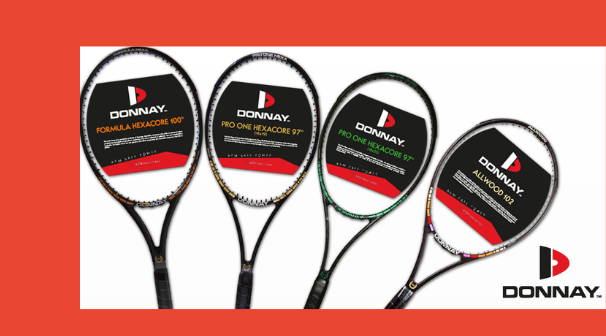 DEMO FOR 14 DAYS.
PAY JUST $1 FREE SHIPPING ON ONE RACQUET 1. CHOOSE A RACQUET TO TRY OUT
Pick a racquet & grip size
2. TRY OUR RACQUET FOR 14 DAYS
Restring if you want. Play matches with it
3. CONTACT US WITH YOUR FEEDBACK
Let us know if you would like to keep the racquet
Donnay offers the ONLY tennis manufacturer demo program. With our unique demo program, U.S. customers can demo 1 racquet for 14 days for just $1. We allow up to TWO different racquet demo but will result in additional $19.95 shipping fee(for two racquets). Restring it if you like. You can keep it for up to 14 days from receiving.


At that point, contact Customer Service with your decision as to whether you will be buying the demo, or shipping it back to us.


Please save the box to be used for returns. We do not provide return shipping labels. Please ship back via Priority Mail or UPS Ground.


Be sure to get the package scanned & get a receipt, as you are responsible for the racquet until we get it back. Please provide us with the tracking number, if shipping it back. If the demo is not purchased or shipped back to us, you will be charged the current cost of the demo, depending upon it's condition when shipped to you.


Up to two different racquet DEMO at a time. Adding more than two DEMO racquet will result in DEMO order cancellation.


Orders for quantities of more than 1 racquet will result in extra shipping fee at the checkout.


*Selected Grip sizes are not guaranteed. Grip sizes with a difference of greater than 1 will not be shipped without customer approval.


Demo racquet shipping is subject to availability and can take up to 20 days for us to ship.


YOU CAN ALSO CALL CUSTOMER SERVICE AT (877) DONNAY-7 TO ORDER A DEMO, OR FOR ADDITIONAL INFORMATION.