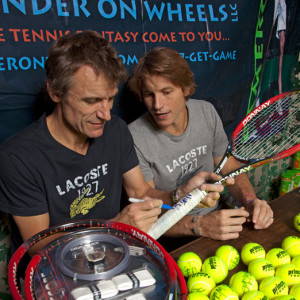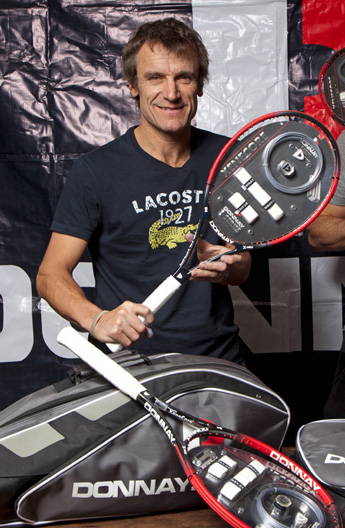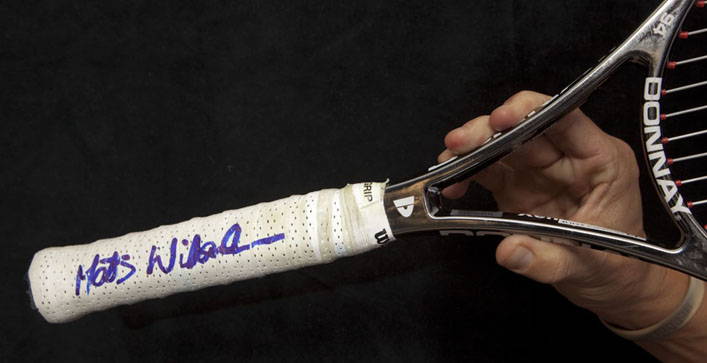 Why 7-time Grand Slam champ Mats Wilander chooses Donnay
Why 7-time Grand Slam champ Mats Wilander chooses DonnaySeven-time Grand Slam champion Mats Wilander is one of the earliest adopters of Donnay solid-core racquet. For the past seven years the Swedish hall-of-fame has played with the X-Red, 94, one of the original Donnay X-Series models with no formal commercial endorsement relationship with the brand,in exhibitions and on his grass-roots "Wilander on Wheels" fantasy camp tour.
Unlike most retirees from the pro tours who retire and switch from the tennis court to hacking around the golf course,Mats (whose home base is Hailey, Idaho where he lives with his wife Sonya and their five kids), is as passionate about tennis and passing on his knowledge to weekend warriors as he was when he became one of six men player in history to win the Grand Slam on all three surfaces and finished 1988 as the ranked World No. 1 player. Today in addition to his tour that keeps him on the road about three months a year, he also serves as a tennis analyst for Eurosport.
We caught up with the hall-of-fame recently at the Connecticut Open where he played a mixed-doubles exhibition with the legendary Martina Navratilova, and in-between a host of "Wilander on Wheels" stops in the Northeast at clubs and private residences. We asked him about his devotion to his X-Red and Donnay's solid-core technology that provides players at all levels with "performance without pain."

Q. Why did you pick the X-Red?
A. I like the look of it which is very important to me and i like the way it feels to hit a ball with it because it's solid and flexible. It has feel but it's solid. i don't like stiff racquets because I have a lot of racquet-head speed.
Q. Why did you choose the smaller 94-square-inch version of the X-Red instead of the bigger 99?
A. I've never liked bigger-head racquets because I miss the middle [sweet spot] when the racquet face is too big.
Q. You mentioned you once had a shoulder problem. Does it still bother you?
A. Never with the Donnay, no matter what strings I use, even [harsh] polyester. I often put polyester in the cross strings and gut in the main strings which takes some of the harshness away, and I think it gives me more spin with the gut in the mains. The ball seems to just slide across the face.
Q. Do you break a lot of string using gut?
A. Actually it's amazing how long gut lasts in a hybrid [set up].
Q. You're on the road a lot with the Wilander on Wheels tour. What keeps you going?
A. "It's a joy to meet people who are so enthusiastic about tennis, and it's really fun for me to be able to help them improve their games a little bit," he says. "And I love camping and traveling in an RV takes you to places off the beaten path, like Cleveland, Tennessee, where to our surprise we discovered and toured the B.B. King Museum."
Q. At the age of 53, how long do you think you'll keep touring?
A. (Laughing) Not until they [Wilander on Wheels fans] stop calling.